Welcome to the latest edition of our Funding and Grant Opportunities series, where we highlight the latest opportunities available for African startups looking to take their business to the next level.
From seed funding to accelerator programs and grants, we've scoured the internet to bring you the most exciting opportunities across the continent. So, let's dive in and discover what this week has in store for African startups!
WomenEntrepreneurs4Good Accelerator 3.0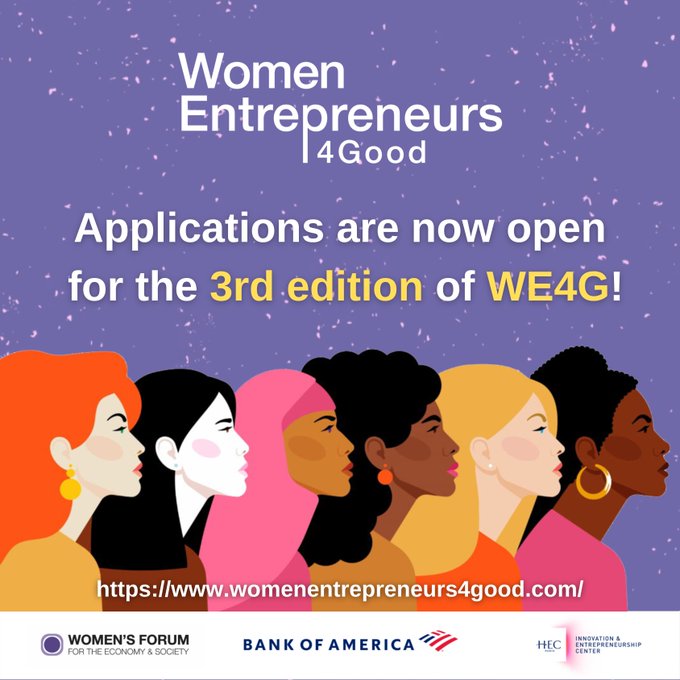 Launched in March 2021 by the Women's Forum for the Economy & Society, in partnership with HEC Paris Innovation & Entrepreneurship Center, and supported as of this year by Bank of America, WomenEntrepreneurs4Good was imagined as a concrete solution to the negative impacts of the crisis on women entrepreneurs.
The initiative is a unique accelerator programme that supports green entrepreneurs at the early stages of their journey. The 7-month online programme equips women entrepreneurs with unique resources and capabilities to innovate and grow their businesses by providing coaching, visibility, technical support, exposure and access to an ecosystem of stakeholders and global partners.
Benefits: Market and customer research coaching, business model support, access to 600+ HEC Paris experts, 3-month online incubator program, visibility and networking.
Application deadline: May 2, 2023.
Learn more about the programme here.
JournalismAI Academy for Small Newsrooms
The JournalismAI Academy for Small Newsrooms is a FREE online programme that offers a deep dive into the potential of artificial intelligence to journalists and media professionals from small newsrooms. It is designed by the JournalismAI team at the London School of Economics and Political Science (LSE) and powered by the Google News Initiative.
In line with JournalismAI's mission to make the potential of AI more accessible for news organisations worldwide, the Academy aims to support small newsrooms that want to learn how AI can be used to enhance their journalism. The programme combines a series of masterclasses given by experts working at the intersection of journalism and artificial intelligence with opportunities for discussion among participants. In addition to that, participants will be guided through the development of resources that can support their organisations' AI-adoption journey during and after the programme.
Benefits: Gain understanding of the potential offered by AI in journalism, acquire new skills for prototyping and experimenting with ideas, and discover a range of AI tools for news organizations.
Application deadline: May 3, 2023.
Learn more about this opportunity here.
Visa Everywhere Initiative 2023
If you are looking for an opportunity to showcase your innovative fintech startup to the world, a platform to gain recognition and build credibility and a chance to win prize money, the Visa Everywhere Initiative competition is for you. This year's competition will be hosted at the TechCrunch Disrupt event on September 19th in San Francisco.
Visa Everywhere Initiative is an open innovation program that helps startups like yours unlock new opportunities — and can give you a global platform to demonstrate your ground-breaking solutions. The program first launched in the U.S. in 2015, and quickly expanded into a global program. To date, nearly 12,000 startups have applied to the program — many of which now work with Visa or its clients.
Benefits: Up to $50,000 in prizes.
Application deadline: May 14, 2023 (South Africa, Kenya), May 22, 2023 (Rest of Africa).
Learn more about the initiative here.
2023 Jamlab Accelerator Programme
Are you working on something that you think could reshape media or journalism in Africa? Do you have skills you could apply to creating great new media? Do you have the energy and commitment to create something great?
Apply to join the Jamlab Accelerator Programme (JAP) in sub-Saharan Africa, our six-month hothouse for journalism and media innovators. The programme offers a unique opportunity to fast-track your initiative, providing you with the tools, facilities, contacts, and support necessary to convert your ideas and ambitions into a commercially viable venture or product.
Benefits: Virtual mentorship and coaching, 3-month Media Entrepreneurship course, access to a technical support development team, opportunities to pitch to potential investors, access to alumni network.
Application deadline: May 19, 2023.
Learn more about the programme here.
---
Don't forget to check through our previous posts for more funding and grant opportunities to help your startup thrive.